today i made carrot soup
(keithy took my picture- i am in pajamas).
alexis gave me this recipe from vegetarian cooking for everyone by deborah madison… it is so delicious and easy to make. as per alexis' recommendation (and having made it now a bunch of times myself) i tinker with the ingredient amounts: that is i add extra carrots and less vegetable stock because i like a thick puree. this time i used dry parsley but fresh is much better. also, the recipe calls for some ethnic spices that i don't love so i leave them out. also not shown is the olive oil which i use sparingly.
chopped carrots.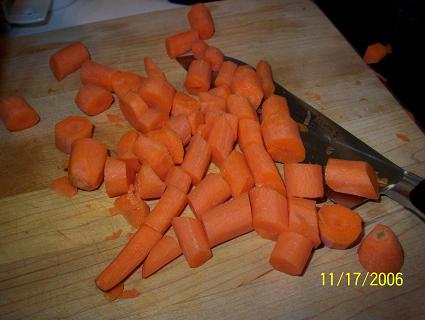 lots of carrots in the bowl.
i use almost two containers of this veggie broth.
browning chopped onions.
rice gets added with the carrots next.
i love this jane's krazy mixed up salt… it has lots of herbs and spices.
almost all the ingredients in the pot.
add the veggie broth.
now it's all in a blender….
yummy pureed soup!
cooling… getting ready to bring to work to share with alexis and producer emily.
xoxoxoxox
jennifer