hi everyone!
i tried to cook this weekend and got mixed reviews…unfortunately.
i cooked a tomato soup which i knew keith wouldn't like but i would… it was made with crushed tomatoes and leeks. i made it from a weight watchers recipe called "creamy tomato soup" (obviously there is no cream in it)…it is so good whether or not you are dieting… as you all know i am constantly trying to diet! can you say work in progress?????
tomato soup before i put it in the blender.

back in pot!

i made a super healthy unfried brown rice with onions, garlic, broccoli, peas, carrots, corn and all white meat ground chicken and egg… i seasoned it with soy sauce. it was really good (yes i ate some chicken- i eat chicken when i don't feel skeeved out by it). but keithy didn't love it because it wasn't heavy enough (i think)… he likes REAL chinese food (as in take out)…not the healthy home made kind.
browning onions and garlic.

ground chicken breast (from fancy ny butcher lobel's)

eggs for rice.

browning chicken and onions and garlic.

added veggies.

with the brown rice.

then i made a spinach/basil pesto with whole wheat pasta… i combined spinach, basil, pine nuts, a little olive oil, lemon juice, some grated parmegian cheese and salt. it was fantastic…even keithy liked it. (and he's not much of a pesto person).
ok- so here is the pesto in the cuisinart…after i had tried making it in the blender. (i am convinced my blender is broken because it wouldn't chop/mix/blend the spinach etc. but keith says i'm crazy because the blender chopped ice fine (we tested it)) so i put the blender away and took out the cuisinart. i am still not convinced the blender is fine.

close up pesto with parmigian.

my crappy camera makes the pesto super bright but in reality it wasn't so electric!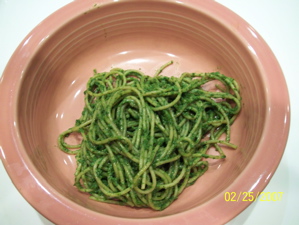 watching barbara walters now (duh).
xoxox
jennifer