hi everyone!
we were supposed to have a snow day here in long island so yesterday i went to whole foods etc. in preparation for the big snow (always a panic day before a "supposed" storm it's so ridiculous!
OFCOURSE wake up this morning to find NO SNOW!
ugh. i love a good snow day and rousing the kids this morning when they expected no school was completely irritating.
yesterday i cooked a cioppino… it is a classic shellfish stew- made with onions, dry vermouth, garlic, thyme, oregano, chopped tomatoes, olive oil, little butter, clam juice, red pepper flakes, and hot sauce. oh and of course shellfish- clams, mussels, shrimp, scallops. i used a recipe from cook's illustrated soups and stews magazine– it's on stands now.
chopped garlic.

chopped onion.

cleaned clams.

cleaned mussels.

steaming clams with garlic, olive oil and vermouth.

steaming mussels with garlic, olive oil and vermouth.

onion, garlic, red pepper flakes, olive oil.

clam juice, chopped tomatoes, thyme, oregano and hot sauce mixed with what's above.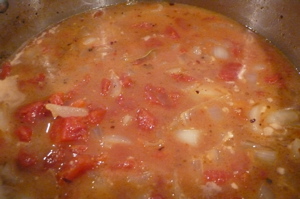 shrimp and scallops and clams and mussels all together left with lid on to cook through.

almost all gone!

shockingly- the whole thing got devoured within 2 hours of making it- between my family, my sister's family, my daughter's friend's family…all tht's left is some broth…which is good because keithy (my husband) has a nasty chest/cough ick and anything souplike is good for him (plus he enjoys dunking the crusty bread in the broth- ugh that sound dirty.)
i also baked chocolate chip cookies (all gone) and some almond cantucci.

i also gave a bag of cantucci to my daughter's playdate- i tried to get "creative" with the packaging.. i really am a big dork!
today i am going to try to make black and white cookies…. i think.
and lucky us… looks like alexis is bringing in mushroom barley soup….YUMM!
xoxo
jennifer
aim:whateverradio