hi everyone!
once again i need to comment on a freakin' comment in the blog post below this one…jo says that i shouldn't blog what i cook/bake because tht's "alexis'" thing…
okay…. i know that alexis is the gifted cook/baker of the two of us…duh!
i am just learning/trying/bettering myself…and taking you all along for the ride.
i also post my insecurities, my challenges, my hopes, my thoughts, my "whatever."
yesterday i got really ambitious and decided to make two things…both were in addition to the tomato sauce i made the day before (from canned tomatoes and canned tomato sauce from italy- the kind that's just tomatoes and needs seasoning) and the guacamole keith made yesterday morning.
i had pre-chopped carrots and celery and onion and realized i chopped more than i needed for the chicken and dumpling recipe i had planned to make- so i figured i'd throw together a vegetable and bean soup (cause novice cooks like myself can so easily throw together anything…not!)
i tried to follow a giada de laurentis recipe for spicy bean soup but i don't like cumin and other smoky spices so i left them out…and i left out the bell pepper as well. i used vegetable stock instead of chicken stock
and i used my tomato sauce instead of tomato juice.
here are the ingredients for the vegetable and bean soup:

these are the chopped tomatoes i used:

carrots and celery and onion and garlic sauteeing nicely:

added the tomato ingredients and parmegian cheese rind: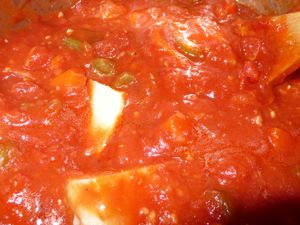 with all the veggies…yummy.

i pureed some of the soup and although it tasted good (not as good when it wasn't pureed but good enough) i couldn't dare show a picture since it looked like poop.
then i made an alton brown recipe for chicken and dumplings.. omg this was so delicious. perfect football food!
here is the organic roasted chicken i bought from whole foods… i cut it up ahead of time so putting this dish together would be easy.

the recipe starts with sauteeing carrots, celery, onions and garlic…

add to that the chicken stock (i used broth)…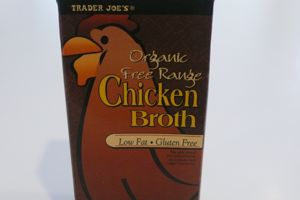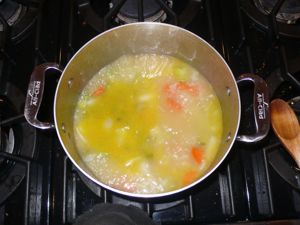 while it simmered i made the dumplings.
alton brown says to freeze the butter and use a cheese grater to grate it into the dry mixture…

dry ingredients mixed with butter:

forming the dumplings:

dumplings in the soup pot:

finished chicken and dumplings even though you can't see the chicken under all that other stuff…

keith enjoyed his version of corona with chicken and dumplings:

and i had a beer too!

ok not really…

i'm still looking for a recipe for diner type jumbo cookies with sprinkles baked into them…kind of like this one i found online but prettier- i wouldn't use these color sprinkles!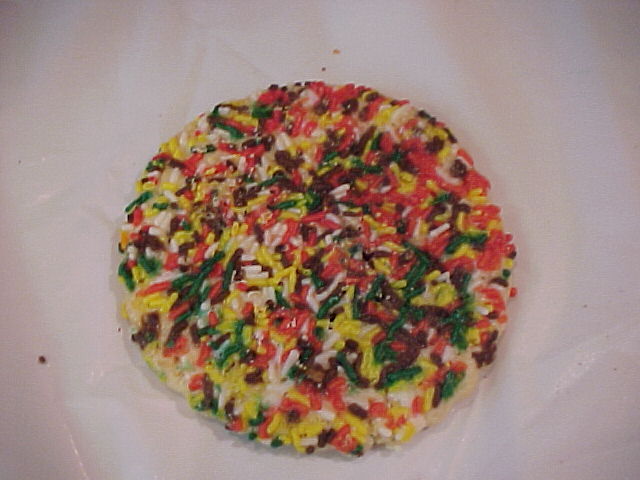 if you have a recipe please let me know.
we are live today…in case you were wondering.
xoxo
jennifer
aim:whateverradio