hi everyone!
i've been obsessed with finding big cool rings/jewelry…. a rather expensive obsession even though my rule is i cannot purchase anything for more than $900 and obviously i don't purchase often- maybe once or twice/year…but still it adds up really quickly.
i wear only gold colored- i don't care if it is silver with electroplated gold (as long as the piece is really cool) i like plenty of rings with a silver shank (ha! shank!) like my turquoise nava zahavi ring (and the stone set in a gold bezel…uses limited amount of gold so it's not so costly…)

well one morning i was getting some coffee and met a local jewelry designer….kathleen diresta
(check out her site). it turns out she teaches jewelry making! i figured my bday is coming up (feb.7th i'll be 38 ugh!) and maybe it'd be fun to make myself something.
so today i had a lesson…
omg… it is so HARD to make jewelry (i know alexis…you told me). but it was also really fun. and i suspect the next time it will be even better with more planning ahead so i can start to make something i'd really like to wear.
i (who am i kidding…WE) made a little ring for my daughter…
here are the two pieces of silver- one flat one thick- that we used to make her ring.

we measured the strip of silver and marked it before i attempted to cut.

the silver was too thick to cut this way so out came the saw!

thankfully it worked and then i had to file the jagged edge.

we moved over to kathleen's jewelry hub…so many tools and stuff!

this is applying the flux- which does something to make the silver ok for heating…

here i am heating the silver so it can be bended into a ring shape- (then it gets quickly dipped into water to cool it then into acid for some reason- although i cant remember why!)

bending…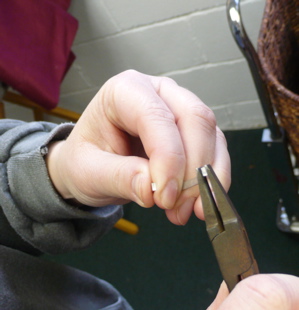 almost there…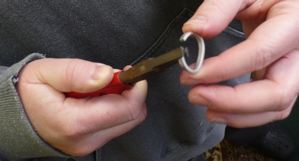 together and ready for soldering the seam!
soldered together and an intersting shape…time to make it round.

used a mallet to push/hammer the ring into round shape on the ring sizer.

it's round!

now i had to cut the flat/decorative silver (i needed a lot of help with this!)

then round flat silver was soldered onto the ring…(same brushing the flux first etc)

and then i polished it..

finished ring!

do you make anything cool? are you crafty? this is my first foray into something crafty…
xoxo
jennifer
aim:whateverradio