hi everyone!
yesterday was a really fun day…culminating in the giant's win. it was super cool watching my kids watch a new york team's victory. i remember when the yankees were against the mets in the subway series world series when i was a kid- ok i'm wrong it wasn't a subway series (that was in 2000!) ..it was when the yankees won in 77 and 78! oops….so awesome.
last night we all stayed up too late and got up too late this morning. and i think we are all still full from superbowl sunday! are you??
saturday i began making pizza dough from nick malgieri's book how to bake.
the water had to be 110 degrees before i could sprinkle the yeast.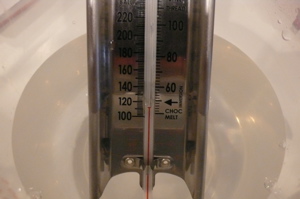 sprinkled the yeast and let it rest for 3-4 minutes.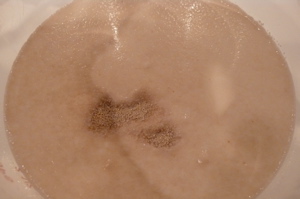 whisked the yeast and added some olive oil.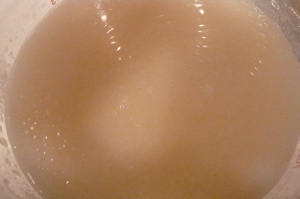 pour the liquid into the well in the dry ingredients…flour and salt.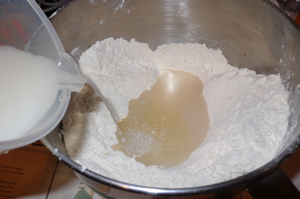 dough forming.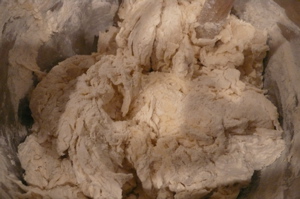 already kneaded on the dough hook and ready to rest in a bowl that's been oiled.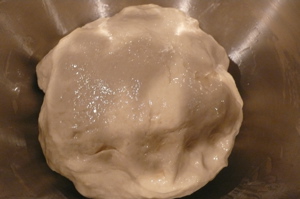 sunday morning the dough ball had more than doubled in size..see it took up entire bowl!

four dough balls from two big balls of dough.

this was one mistake!

this was another! but i learned i had to flatten the bubbles 3 minutes in to baking on the pizza stone.

finally getting the hang of rolling out the dough so it was thin enough.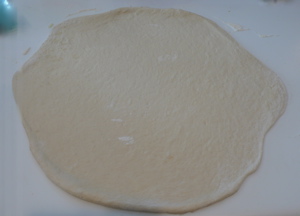 i baked several different kinds of pizzas….. keith wanted bbq chicken pizza (is that really even pizza?!) so i decided to make the bbq sauce from scratch (if you can call using ketchup as a base scratch!) but the tomato based pizzas both had jarred rao's sauce (couldn't deal with making tomato sauce too.)
here are the ingredients for the bbq sauce….it was from a recipe i found on foodnetwork.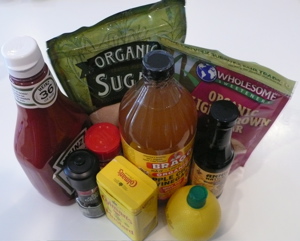 combining all the ingredients plus a cup of water.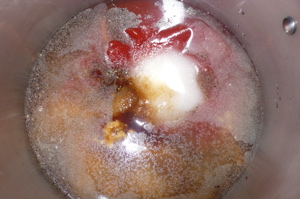 bbq sauce is done!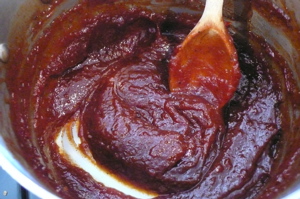 organic chicken that i picked through, cut, removed all the bloody pieces ewww…that's the worst part of dealing with chicken- it can be really nasty.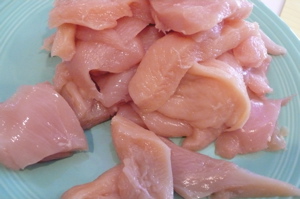 chicken after i've browned it.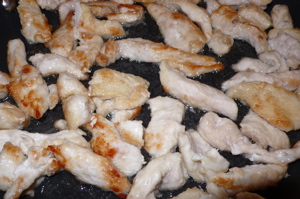 bbq chicken pizza before i put it in the oven… on the crust i layered bbq sauce, mozzarella cheese then chicken mixed with bbq sauce.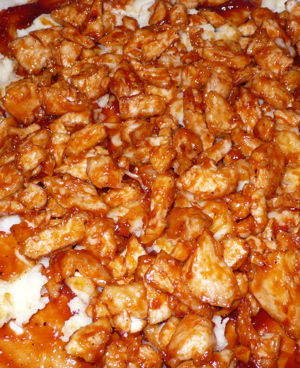 and out of the oven. i know it sounds gross but it's really yummy.

i baked some traditional pizzas too…
classic plain pizza before baking.

classic plain pizza after baking.

arrabiata (spicy tomato sauce) and parmesan cheese pizza before baking.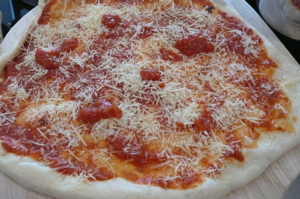 arrabiata pizza after baking.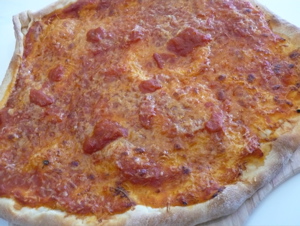 my son's white pizza- which i took a picture of with my blackberry because i forgot to do it when i took the rest of the pictures- so excuse the (poor) quality of the photo…it was just mozzarella and ricotta cheese.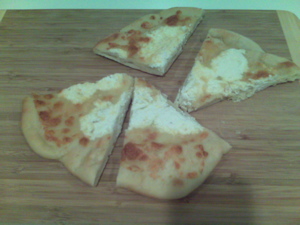 and the carmelized onion and goat cheese pizza.
here are the onions carmelizing.

and the finished pizza.

all the pizzas were delicious but i could work on making my crust more chewy…these crusts were not quite thin enough and they were a little too crispy. but for a first try i did alright. both of my kids and my niece and my husband seemed to like all of the pies… and i'm sure all the leftovers will get eaten too.
i spoke with the bakery owner (see post below this one re: bread pudding) …his name is rob mansfield- the bakery is grassroots bakery in glen head, ny. he said i could post the bread pudding/souffle recipe so here it is….thanks rob!
bread pudding souffle:
4 sticks of butter (room temperature)
4 cups light brown sugar
6 tbs light corn syrup
2 day old challah bread or brioche
16 eggs
4 tsps vanilla

preheat oven to 350 degrees.
cube bread and put into two casserole dishes (recipe makes two bread puddings so feel free to halve the recipe- which is what i did. i also added a couple splashes of milk to get more liquid)
combine butter, sugar, corn syrup, eggs and vanilla in a mixer. once combined pour over the cubed bread and make sure all gets wet….(see picture in blog post below…it looks gross when it is about to go into the oven). bake uncovered for around 40 minutes- i didn't check how long it had baked but i think it was around that long or a little longer… and i lowered the temperature
to 300 for the last 10 minutes so the top wouldn't burn. this bread pudding souffle is SO decadent. and super easy to make.
xxx
jennifer
aim: whateverradio