hi everyone!
alexis and i were on good day ny yesterday and when we arrived we were put in a group green room/holding cell…
the riff raff was out of control!
here's ernie saying hello.

ernie and bert clearly nervous about being on tv!

and elmo…happy as usual.

after our appearance on good day ny (steve posted a link to it on the "media appearance" section of our bulletin board) i went to get a pedicure…
clean feet!

and then i went for a teeth cleaning…and OMG… look at what happened when i spit!
(tht doesnt sound good…)

in the afternoon alexis and i appeared on fox business on the show with liz and dave… i don't know if there is video- i haven't seen it. but just so you can see how glamorous it all is (isn't) here is the food backstage in the green room.
yummm! NOT!

and alexis and me waiting to go on. don't we look SO happy?!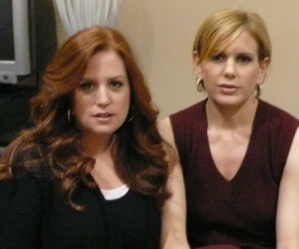 xoxo
jennifer
aim: whateverradio