hi everyone!
back safe and sound…thank g-d!
had a lovely vacation which i will discuss live on air tomorrow!
yesterday i made provencal vegetable soup…
it was easy to make and turned out surprisingly delicious.
three things to mention:
1. i used the onion goggles alexis got me and omg i didn't cry while chopping!!!! amazing.
2. i used the palm peeler that listener danielle gave us…and it is awesome!
3. i didn't use the saffron in the recipe- got nervous i wouldn't like it and by the time alexis emailed me back to tell me saffron was ok it was too late to add.
this soup is a vegetable soup but it's made with chicken stock…i would've have substituted vegetable stock but i didn't have any in the house and keith had already returned from picking up the other ingredients.
ingredients:

i chopped up the leeks you see above but here's how they look before chopping…(i lifted this photo from whole foods' website) the green leaves are actually much longer…but only the white/light green parts of the leek are usable.

then i sauteed the onions till translucent.

now all the veggies sauteeing together.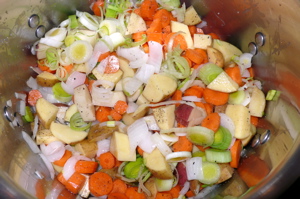 added the chicken stock/broth.

after 30 minutes of all the veggetables getting cooking i added the haricots verts (green beans)
and spaghetti…then cooked for another 15 minutes and voila!

then i made the pistou… which is garlic, tomato paste, basil, olive oil and parmesan cheese- it's a pesto without nuts!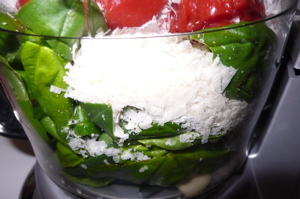 finished pistou which gets added to the soup and a spoonful on top too!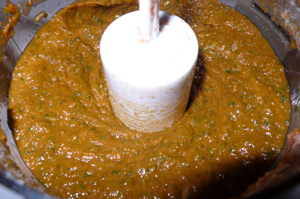 i had some extra potatoes so i roasted them with a little olive oil and garlic salt…yummy!

so excited to watch snl today on dvr! i couldn't stay up to watch it live last night…did you see? was it good?
and tonight…OSCARS!
i am wondering if michael clayton will win…my brother brian (he's so great) is in it…he plays the plumber/poker player seen/heard at the beginning of the movie and then at the end…i thought he was terrific!
xxx
jennifer
aim:whateverradio