hi everyone!
my friend dr. sharon (she's a dentist!) gave me a terrific recipe for chocolate chip scones…
pre-heat oven to 375 degrees f.
ingredients…detailed below: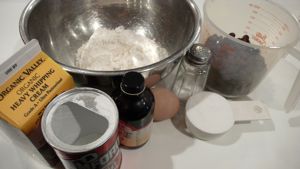 2 cups all purpose flour
2 tsp baking powder
1/2 tsp salt
1/3 cup sugar
1-1/2 tsp vanilla
1 large egg
1/2 cup heavy cream
1/4 cup (half stick) unsalted butter…chilled
milk chocolate chips- as much or as little as you want… i used WAY too much!
put the flour, sugar, baking powder and salt in a food processor and pulse it for 30 seconds to combine all ingredients…alton brown says to do this with dry ingredients all the time (sometimes dry ingredients includes sugar other times it doesn't)!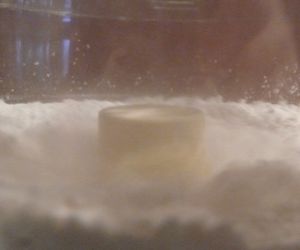 grate the butter using a box grater.

rub the butter into the dry ingredients (flour sugar etc.) – there should be some pea size crumbs…and put this mixture into the freezer while you combine the wet ingredients (egg, vanilla and heavy cream).
take the mixture from the freezer, make a well in the center, pour in the wet ingredients and combine with rubber spatula (or wooden spoon)… once combined add the chocolate chips.
place the dough on a cookie sheet or parchment paper, knead the dough for a minute (not too much i don't think). using a round (or heart shaped or square!) biscuit cutter make individual scones (or you can make a circle and use a knife to make scone wedges).
place them on parchment paper on a cookie sheet.


bake for 20 minutes till lightly browned on top.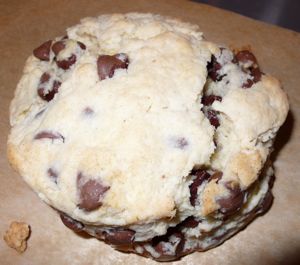 the recipe makes 8 scones.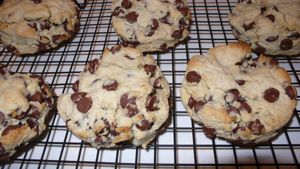 easy and yummy and way decadent!
on friday, my mom's friend holly gave me an awesome blinged out sweatshirt!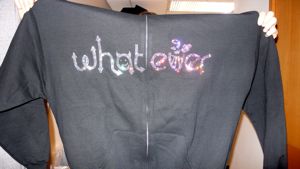 closeup of bling…i do LOVE bling!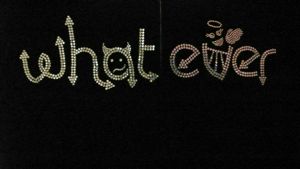 how was your weekend?
xoxo
jennifer
aim:whateverradio