hi everyone!
the other day i asked my son what he'd like for breakfast and he said "matzoh brei!"
matzoh brei is a jewish dish traditionally eaten during passover (when jews are supposed to eat only unleavened bread)… it is made of matzoh, eggs, butter, salt, pepper and/or sugar. some people like their matzoh brei savory (my side of the family) and some people like their matzoh brei sweet (my husband's side of the family).
regardless of how you like to eat it, it is delicious and simple to make…and can be served as breakfast, lunch, dinner or snack!
here are two boards of matzoh… i use 1 egg/board of matzoh but you can use as much egg (or as little egg) as you'd like depending on how "eggy' you want your matzoh brei to be!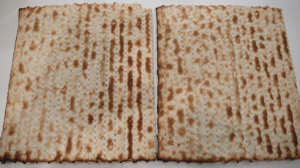 i break the matzoh into medium size pieces- i used 5 boards (enough for the whole family)

then you pour boiling or super hot water (don't use tap it may contain lead!) over the matzoh – through a strainer- to presoften it before adding the beaten eggs.

now pour in the already beaten eggs (preseason eggs with salt and pepper).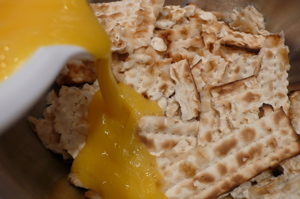 mix the eggs and matzoh and fry in a buttered pan.

and finished…top with either sugar or jelly or salt and pepper.

listener todd sent me this fabulous vegetarian cassoulet recipe from gourmet.
this is a yummy garlicky french vegetable and bean soup. although the recipe doesn't call for vegetable stock, i used it to add more flavor.
here are the ingredients…prechopped!


and the vegetables sauteeing. i used dental floss to tie the parsley and thyme together…

these breadcrumbs were made by pulsing a baguette in the food processor, adding garlic and olive oil and then toasting in the oven. SO GOOD!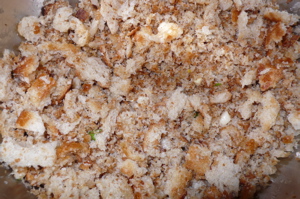 and the finished cassoulet!

i am so tired today! i am supposed to feel better/thinner/stronger from bootcamp (to read (and see pictures) about bootcamp see last week's blog!)…hasn't happened yet! if i could just give up the damn carbs. and i'm SO pms…(tmi? too bad!)
xoxox
jennifer
aim:whateverradio