hi everyone…
i swear..after wearing so much makeup the past few weeks i am into the clarisonic brush EVEN MORE than i was before! it has totally saved my skin…
more hints!

boob adjustment…

oh and alexis and i got pedeggs from chrissy!

another hint!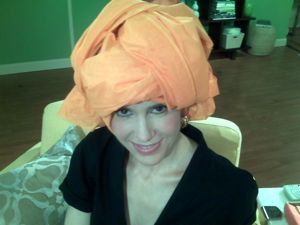 and tonight was the wrap party…(we finished shooting today!)
here is alexis…there is a hint here too!

and here is sean from the shoot…you will hear about him tomorrow.

whether the show turns out great or not, i can say with certainty that we had a terrific and kind crew. everyone treated us really well and i feel lucky to have had such a positive experience!
back to radio tomorrow…LIVE. and now… off to bed.
xxx
jennifer
aim:whateverradio
facebook: jennifer koppelman hutt