i got over myself (see september 2008 blog "if you can't take the heat" if you don't know what i'm talking about) and baked!!!!!
it is keithy's birthday tomorrow (41) so today i baked him his favorite cake- a mocha cake.
a mocha cake is yellow cake with mocha frosting which is really just milk chocolate frosting with some coffee added to it.
i used the cake batter to make cupcakes with milk chocolate frosting and a mini layer cake with the mocha frosting.
ingredients: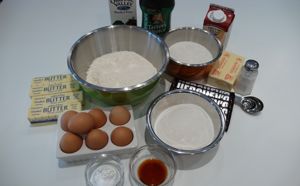 out of the oven:
frosted cupcakes:
and mini cake:
problem is… the cake was underdone!!!! (we celebrated a little while ago) but keith ate it anyway...and loved it.. keith prefers a wet cake (yes, insert joke here).
and now we are under the covers (yeah, saturday night- we are home with our kids) and keith turns to me and says "honey your hair looks like a texas polygamist's wife".
he's not wrong!
good times.
xxx
jennifer
facebook: jennifer koppelman hutt
aim: whateverradio