after keith and i visited my mother in law in the hospital (see the "come on people blog), we walked to a small "farmer's market" near the hospital. i didn't like it because it did not have great stuff. and the people selling the vegetables were were annoyed when i asked whether the produce was organic and local (some was local but NONE were organic).

vegetables.
it was a bit depressing really.
then i went home to bake (and be home for my daughter's playdate etc.)!
my son's birthday is thursday so i baked cupcakes for his class and put them in the freezer. i will make the icing and frost thursday morning so they taste good.
he wants devil's food cake with white icing.
here are the ingrdients:
i doubled the recipe and had to write it out… im such a math moron!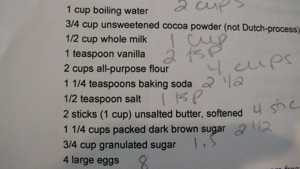 and i had too much batter in my mixer.
but cupcakes looked good out of the oven!
and there were extra mini cakes for sampling. all were pleased in my house.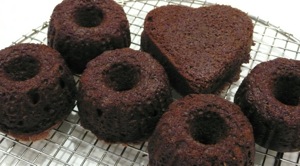 i hope i can frost them well. i would like to do something other than the swirl!
and this morning i set out to make egg white/spinach salad. and i failed! it is so gross. i am trying to put vinegar or mustard in it to see if it can be saved but i am not hopeful. i used fresh spinach, low fat mayo, salt and pepper and lots of eggwhites. and it is gross.
luckily i also had arugula in the house.
look at pretty heart leaf!
so i just put salt and pepper and fresh parmigian on the arugula and that will be a delicious lunch. and i am bringing some nuts for after work. (alexis and i have to do something after the show so there won't be time for dinner.)
i reused the organic lettuce container to bring salad to work.
tomorrow i will have my "mohs" surgery on the squamous cell carcinoma (see blog "ear excavation" below). i will ask the nurse and/or doctor to take pictures for the blog.
xxx
jennifer
aim: whateverradio
facebook: jennifer koppelman hutt