ok. i got home from work last night and began the task of making the frosting and icing the cupcakes for my son's birthday today.
i was trying to make the italian meringue/buttercream frosting from eggs, but it didn't turn out right. i think the egg whites were not ok. so after i tried to whip them for 40 minutes…adding cream of tarter, extra egg whites and extra sugar i gave up.
of course keith said "why don't you just use a can of frosting"…NO WAY! but i didn't have anymore pasterized egg whites so i made a traditional buttercream recipe that i got off of wilton.
ingredients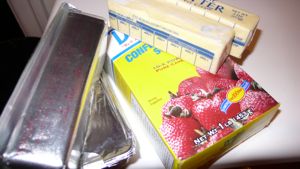 cupcakes ready to go… i didn't have enough frosting so they were a little lame. oh well. the cupcake boxes are from wilton as well.
today i am going to make a vanilla layer cake with vanilla frosting. i will try (again) to make the frosting i wanted to make last night. and i have to make biscotti for tomorrow.. it is alexis and my show's 3 year anniversary!!!!!

WARNING! here comes my ear. click off if you don't want to see…
almost healed from the biopsy before the "mohs" surgery to remove my squamous cell carcinoma. dr. geronemus' office gave me a "botox" headband.
after the surgery was completed but before bandaged- looks what i imagine a bullet hole to look like.
first bandage (looks like i have no left ear!)
and now i have the kitty bandage...much better!
doing the show from home today so i can take my 10 year old son out to dinner!
xxx
jennifer
aim: whateverradio
facebook: jennifer koppelman hutt