my brother brian "he's so great" got a dog.
her name is oreo! (named by my 8 year old niece.) she's a coton de tulear and super cute (she's in my kitchen in this picture).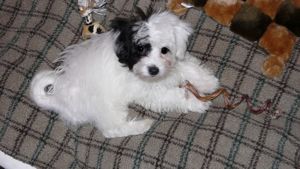 she is staying with us tonight. and maybe longer. i don't know yet. but what i do know is that i know absolutely NOTHING about taking care of/ house breaking a little dog. (so tips welcome!)
well i couldn't let oreo k. stay with us unless hazel hutt was cool with it.
hazel has been so good to this little dog today- and yes, we are giving hazel extra attention. For your dog not to be jealous, it takes some creatvity!
here they are outside.
and now they sniff around.
and then hazel decides to play with oreo k.
and the chase is on!
oreo gets to safety.
and then she rests.
xxx
jennifer
aim: whateverradio
facebook: jennifer koppelman hutt
p.s. i use abba shampoo and conditioner or kerastase shampoo and conditioner- the kerastase is SO expensive and i prefer the abba!
update: After trying to get oreo adopted on www.pawlife.com,  which was a little stressful, oreo has been officially adopted by keith's sister, thank god. she's living 10 minutes from us in a loving home where her owner will be able to stay home with her all day and train her/care for her the way that puppy ought to be cared for.