my dear friend gillian (childhood friend!) had a holiday party in brooklyn last night. she requested i bake chocolate chip scones (umm yumm!) so i baked chocolate chip cookies for my kids (once in the kitchen i can't not bake for them too) and scones for gillian.
then keith and i picked up my friend leslie (gillian, leslie and i are best friends from childhood) and together we went to brooklyn. we laughed A LOT.
and i drank. yep. i did.
ingredients for alexis' chocolate chip cookies:

cookies ready for baking:



and out of the oven:



ingredients for scones:



and about to go into the oven (heart shaped!)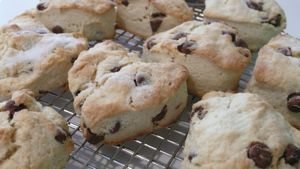 here is a video from last night my friends gillian and leslie and me.
gillian made a lovely party with pizza's from sullivan street bakery. can't get better than that!
xxx
jennifer
aim: whateverradio
facebook: jennifer koppelman hutt