the other night i noticed hazel was licking her LEFT front leg, so after i tried to figure out what it was and couldn't, i asked keith to take her to the vet. (her appointment was during my work hours). keith went to the vet and was told/shown hazel has a cut on her RIGHT leg. so keith texted me to tell me i had the leg wrong blah blah blah (but i know what i saw!) anyway, after she came home from the vet, and i came home from work, hazel sat down and started licking her LEFT front leg again. thankfully, this time, keith saw (ha!) and investigated. he pulled some sort of something (maybe from a bush?!) out of her hair and she stopped playing with the leg.
here is hazel with her bandage. (she goes back monday for check up)
and i have NO idea how/where she got cut. be careful hazy!
close up of bandage.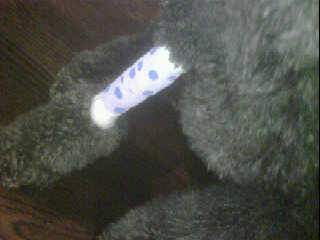 she is the sweetest dog.
xxx
jennifer
aim: whateverradio
facebook: jennifer koppelman hutt
twitter: jenniferhutt