last weekend i used the every day food magazine and made two chicken dishes…
made the chicken cutlets

and the grilled chicken (no picture).
we didnt have watercress salad on top. instead i made burnt broccoli which is broccoli cooked with garlic and olive oil until it is burned!
my daughter and i baked the chocolate layer cake.
here she is frosting it.


although the cake didn't LOOK perfect, it was a hit with anyone who ate it. by the end of sunday, it was almost ALL gone. (we had a big family day sunday with my brother's family and of course my sister's too.)

and then i tried to improvise (just what a mid level baker should do!) and bake an apple dessert for keith. i defrosted pate brise that alexis made months ago (while teaching me how to make it).
here it is rolled out.

and i cut up lots of apples and made two rustic tarts…didnt REALLY follow any recipe… i took ideas from this rustic apple and cherry galette and made two versions…one with cherries and one without.
although keith did NOT like these apple desserts, everyone else did. so i still have to bake him what he'll like…which is some thin crust with ultra thinly sliced apples and sugar… i think it is a phyllo dough he wants. and i'll use a mandolin for the apples. will hopefully do it this coming weekend!
cut up apples.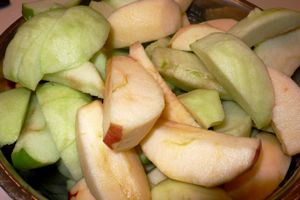 steaming the apples.



apples and dried cherries.

apple only ready for oven.

apple and cherry.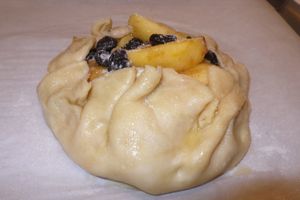 apple done!


and cut.

slice of apple cherry.



this weekend i am baking tollhouse blondies for the kids and their friends and the apple thing for keith.
xxx
jennifer
aim: whateverradio
facebook: jennifer koppelman hutt
twitter: jenniferhutt