had a great saturday!
kids had friends over. i baked blondies (used tollhouse recipe using milk chocolate chips and added some white chocolate chunks in a 9 X 13 inch pan baked at 350 for 35-40 minutes)...they turned out scrumptious!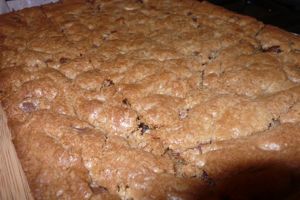 and cut.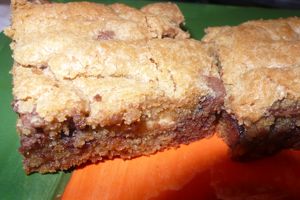 and i attempted to work with phyllo dough and made some apple tarts...although the kids ate the less burnt one, my husband did NOT like either!
phyllo layers...with butter, sugar and cinnamon in each layer.



i sliced the apples in a cuisinart (with slicer attachment) and then mixed them with sugar and lemon juice.



and the burnt one.



i ate some apples off of the burnt one... and they were delicious and carmelized. but over all it was not very good!

the day with the kids and the baking success and failures were both "ups."
today, however, was the "down". (stop reading if you don't want to hear about bunny)

today was my mom bunny's unveiling. it was sad. so so sad. though i don't discuss losing her all that often, i feel it every day. and days like today are just brutal.
last week i stumbled upon a text message i had sent to someone (about how my mom was doing) a year ago...2 months before my mother died... and the optimism in the text is jarring. reading it now, i can see how deeply in denial i was about my mom's illness.
i had no idea that we had just 60 days left (with her). NO IDEA!

now, no more denial- just acceptance and sadness. oh and the anger (unfortunately) still exists. wish it weren't taking this long to dissipate.

xxx
jennifer
aim: whateverradio
facebook: jennifer koppelman hutt
twitter: jenniferhutt