went to montauk to hang with my friend (since 6th grade!) gillian…had such a good time!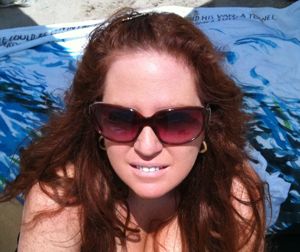 panicked only a little (or a lot!) when keith was swimming in the VERY ROUGH ocean with strong tide. was so nervous he'd be lost at sea!!! (yes i've got issues but you know that already!) lots of surfers on this beach in montauk. i don't surf!
met some of my friend gillian's friends who were all SO welcoming and fun.
and one of them, matt albiani, published "lifeguard on duty" (all photos of HOT lifeguards) it is a beautiful book.
although i don't have pictures of dinner, gillian's boyfriend lee cooked the most delicious dinner- and he has promised to send me recipes that i will share. (and i think another person took photos, so if i can get them i'll post later).
we were 10 people and he made: salad with lettuce, tomatoes, peppers, avocado, watermelon, corn, and a bleu cheese dressing. (almost all vegetables came from their garden)
he roasted corn and put a butter sage sauce on it.. i heard it was awesome (from keith) but i didnt eat the corn.
lee made seared tuna with some sort of soy based sauce, he cooked shrimp and scallops and topped with a little old bay seasoning, and a super yummy coconut rice with thai basil.
seriously, dinner in someone's house with cool friends and great food is the best kind of night.
then, of course, the younger people went out clubbing till 3am!!!! obviously, we did not.
but i was up until after midnight..which for me..is WAY late.
xxx
jennifer
facebook: jennifer koppelman hutt
twitter: jenniferhutt