happy new year everyone!
back from cancun.
here are a few pictures from the trip.
keith used his blackberry to take the pictures of me…
here i am before we left…nervous i am sure.

and thank you keith for this lovely "ive taken xanax" picture from the plane.

this is view of hotel's (fiesta americana grand coral beach) pool and beach from our room's balcony.
and the beautiful ocean waves.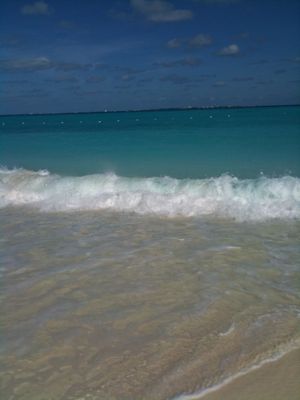 and the kids, my sister stacy and me riding the waves…small wave!

kids (our kids and friends' kids) and keith on float in the ocean.

keith and our kids saluting some dolphins at xcarat- this sort of amusement park place an hour away from cancun… we did NOT like it very much but the kids did love interacting with the dolphins…

pretty sunset.

my sister's kids..and mine.

at the airport waiting to go home- there was a crazy delay and security was intense…everyone was patted down and all bags searched. (note: i did wear same thing going to cancun and coming home!)

and ofcourse, keith had his phone and took the opportunity to photograph me, once again, knocked out on the way home!

we had a great time.
but i am thrilled to be home.
xxx
jennifer
fb: jennifer koppelman hutt
twitter: jenniferhutt