got up this morning and walked with my sister…(that picture is on fb!) i was so tired but knew if i didnt do it, i'd feel miserable all day.
then i headed to nyc because alexis and i had to do voice over for an mslo project this afternoon… here we are in the studio.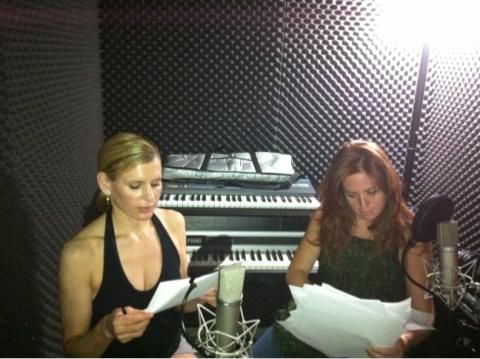 ofcourse, one of us kept our papers messy…and the other neat. who's the messy one?!

and after, alexis left to do something other than her taxes and i headed toward the parking lot where i had parked my car. but then i realized i was HUNGRY… so i left the lot and went to 5 napkin burger on west 45th street and 9th avenue.
i sat at the bar, placed my "to go" order (turkey burger over a salad, no cheese and dressing on the side and (yikes!) a diet coke!) and planned to eat it in the car on the way home…
then i thought how messy/unattractive that would be…and dangerous (!) so i ate at the bar…and the bartender was super nice. he even told me not to eat the dressing on the left because it was mayonnaise/cream based!
he took my picture.
i'm not one to eat alone in a restaurant often because i feel awkward. but today it was actually quite nice. and yummy.

pls remember to get tickets to come see alexis and me (be in our studio audience!) tape our tv show for hallmark channel. we need the support!
xxx
jennifer
fb: jennifer koppelman hutt
twitter: jenniferhutt