hi everyone!
i went to a party friday night- and videoblogged a little just before it….i'm so damn boring! so boring that i almost didn't post…but then i thought- aren't i supposed to be showing how lame i am?!

in preparation for the party i baked lots of biscotti/cookies…
i love this cantucci recipe from nick malgieri's cookie book because the only fat in it comes from the almonds and the eggs…there is no oil, no butter, no shortening.
the candied biscotti (however) from biscotti have a stick of butter and more butter for making the candied almonds.
and alexis' chocolate chip cookies…..well…might as well slap a pound of butter right on your ass if you are eating these…and they really do taste amazing.
here is the cantucci batter:

and then ready for baking:

and then out of the oven:

baking again:

i baked candied almond biscotti as well…
here are the candied almonds- made with butter and sugar.

and the biscotti before it went into the oven: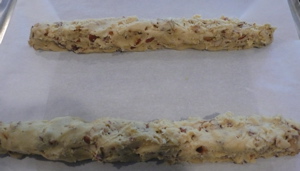 and out of the oven the first time:

and after second bake:

then i made alexis' chocolate chip cookies.
here are the ingredients:

batter:

and done!

i did have some wine at the party…and felt crummy all day yesterday. then last night..keithy and stayed up super late watching "jackass 2" omg that movie was completely disturbing!
never saw "jackass 1"…bummer!
today i plan to cook chicken and dumplings- there is a big football game tonight (go giants) and comfort food seems in order!
xoxox
jennifer
aim: whateverradio