this morning, i let hazel hutt outside and much to my dismay (and hers!) she was attacked by a bird.
i'm not a fan of birds to begin with but i thought THIS bird was pure EVIL
until i realized it was protecting its nest.
see hazel is a predator and chases birds all day long. and usually she wins by their flying away or her catching them…but today, this one little bird showed hazel who was boss! (at least for today).
sometime in the afternoon i was able to snap a picture of the action.
here is the bird in the tree.

and the nest it was protecting.

hazel about to be attacked.

and more attacking.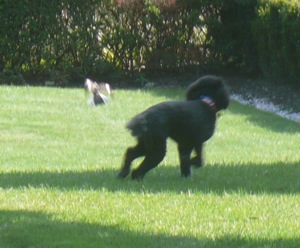 and hazel escapes to safety! (see the bird next to the tree flying after hazel?)

and one more thing…
here is the baglady i work with taking a nap.
look familiar?

xxx
jennifer
aim:whateverradio
facebook: jennifer koppelman hutt