as many of you know, i was apprehensive about my bday.
birthdays aren't the same without my mother,
but i chose to enjoy the day and not dwell on what makes me sad.
and frankly, my sister was not going to allow me to wallow in ridiculousness on my 40th.
so she made sure i was showered with love. and friends. and gifts.
and did everything my mom would've done…and probably more!
when we came back from early am exercise (during which i wore the tiara paulie gave me!), here is what i saw.

and inside: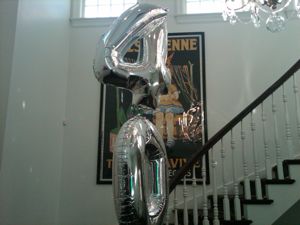 and what's a birthday with out m&ms.

because i love pizza, and i had planned to order in a bunch so when friends stopped by i had food to give, stacy hired mark to come bake fresh pizza in my kitchen. it was FANTASTIC. so delicious. and i am so full.
and throughout the day, friends came over. some stayed a while, others not as long. it was easy, nice, perfect. we had a cake. too much cake.
oh and boy did i get gifts… that's the thing about turning 40… GREAT presents!! and i am sharing them because i know you want to see! and i realize (before the comments get nasty) that i am lucky beyond lucky that people gave me such wonderful things and i know that what matters much more than these sparkly items is the thought and friendship/love behind them.
my friend in chicago sent me amazing jennifer miller gold hoops.

a group of friends here got together and pitched in (along with my sister and my brother) and got me the most gorgeous faraone mennella heart ring… the picture doesnt do it justice.

my dad got me funky/hip/cool/awesome earrings by yossi harari- they are oxidized silver (black) with diamonds:



my friend holly made me these pillows (yep..they are now in my closet!)

and keith and my kids gave me a magnificent cartier "love" bracelet.

thanks for all the happy birthday comments. and all the kindness.
40 is going to be fun.
xxx
jennifer
fb: jennifer koppelman hutt
twitter: @jenniferhutt